Melanie Zibit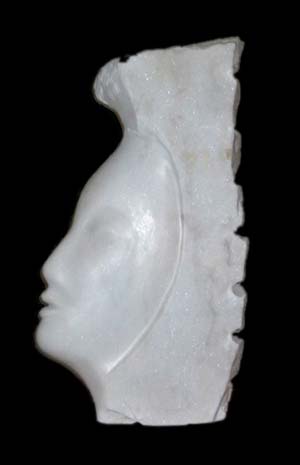 "Silent Muse"
Vermont Marble, 24" H x 9" W x 7" L
Melanie Zibit graduated from Brandeis University, Magna Cum Laude with honors in sculpture and was voted the most promising student of sculpture. Upon the advise of her Brandeis Professor, she went to Carrara, Italy to learn how to carve from the masters. A native of Lexington, Massachusetts, Zibit studied with Peter Grippe at Brandeis and met renown artists such as Ipousteguy and Lipchitz in Italy. She has participated in workshops with B. Amore and Philip Pavia. She is a Board member of New England Sculptors Association. (NESA) She has received awards and has exhibited extensively in museums and galleries throughout New England. Her work is held in private collections in Maine, Massachusetts, New York and Oregon. She holds a M.Ed from the University of Illinois and earned an MBA from the Harvard Business School.
Over the years, Melanie built a second career as an educational researcher and holds a position as Assistant Research Professor at Boston College. With her dual career, she returns to Italy almost every year to carve or to cast in Pietrasanta, (which means Holy Stone), the same town in Italy where Michelangelo carved during the Renaissance. It was there that she carved a piece entitled "Tree of Knowledge" (2004-2005) which won a competition for permanent placement at the Middleborough Public Library, Middleborough, MA. "Starting with my earliest sculptures, I wanted to capture the elegance, beauty and permanence inherent in stone." Melanie creates contemporary sculptures both abstract and figurative. She accepts commissions for interiors, gardens and for corporate and public environments.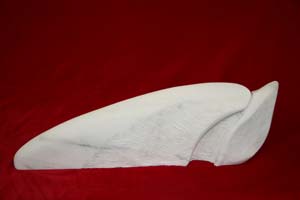 "Summer's Song"
Vermont Marble, 34" L x 12" H x 8" W