Special collection from the estate of Robert P. Wheeler
1922 - 1996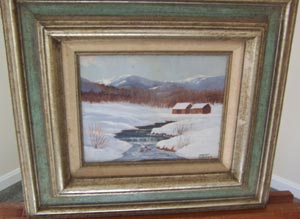 "Winter Stream"
8 x 10"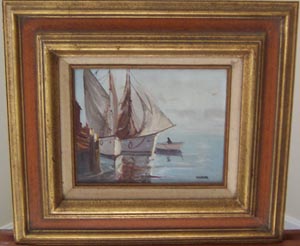 "Northshore Boats"
8 x 10"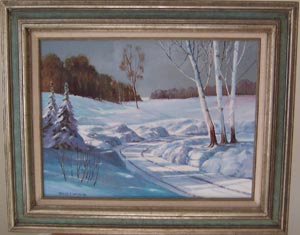 "Vermont Birches"
16 x 20"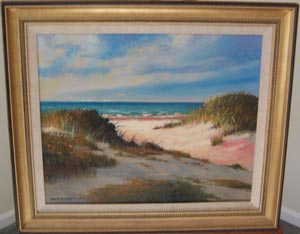 "Sandy Neck Dunes"
16 x 20"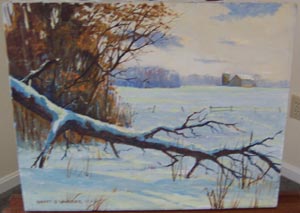 "Farm in Winter, N.S."
16 x 20"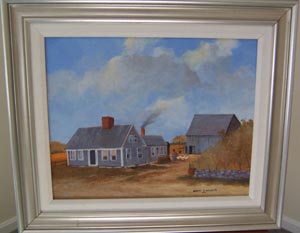 "West Barnstable Homestead"
16 x 20"
"Vermont Winter"
18 x 24"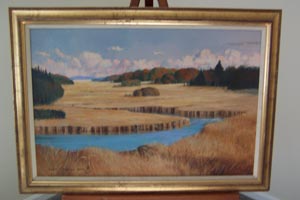 "Great Marsh, Early Fall"
20 x 30"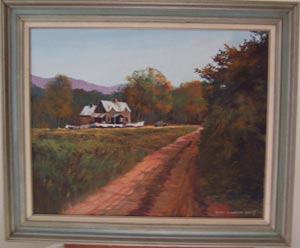 "Autumn Homestead"
30 x 24"
Mr. Wheeler was a resident of West Barnstable, Massachusetts from 1938 to about 1994 when he moved to Natick, Mass. He grew up in Waltham, Mass. and by the age of twelve he was already serious about painting. He would spend hours painting in the galleries of the Museum of Fine Arts, Boston and he remained a self-taught artist. The International Society of Marine Painters awarded him membership and he was also an esteemed member of the American Society of Marine Painters. Although Mr. Wheeler was best known as a marine painter and "was in love with the sailing ships". He was also regarded as an expert marsh painter by his peers. He used to say that he especially liked to paint his marsh paintings in the fall when there is more color, however, he painted the Great Marsh in all seasons of the year. Very early in his career, he traveled more than 45,000 miles a year over a ten year period painting and exhibiting his paintings in scenic areas throughout the United States and Canada. His awards and special exhibitions were numerous. Paintings by Wheeler can be found in many public places throughout Cape Cod. During his long and successful career, he owned some galleries and he was represented by several others, including Arlene Hecht's Gallery 333 from 1988 until his death in 1996. A memorial tribute exhibition was held at Gallery 333, North Falmouth at the opening of the gallery's tenth anniversary season on 1997.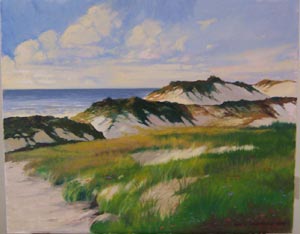 "Sea Grass at Sandy Neck"
30 x 24"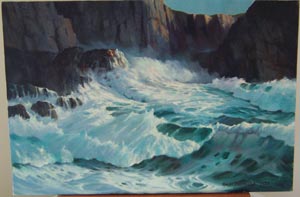 "Crashing Through The Rocks"
36 x 24"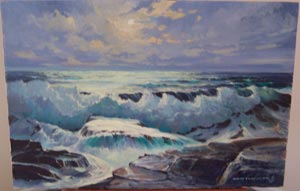 "Summer Sky"
36 x 24"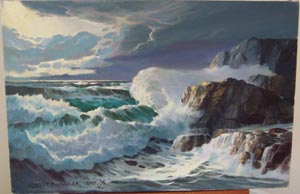 "Bass Rocks, Gloucester, MA"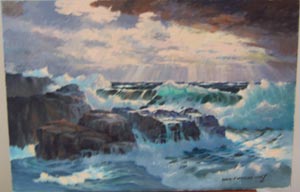 "After The Storm"
36 x 24"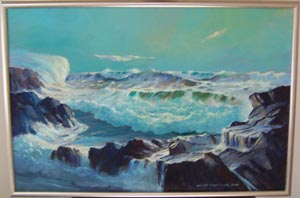 "Bass Rocks"
36 x 24"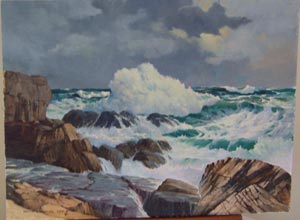 "Big Spray"
40 x 30"
"Rocky Seascape, Maine"
28 x 48"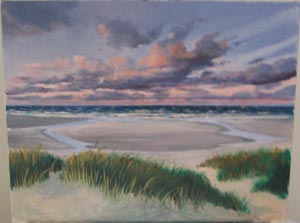 "Summer Tide Pool"
28 x 22"