Susan Varga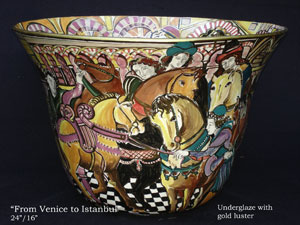 "From Venice to Instanbul"
24"/16"
Underglaze with Gold Luster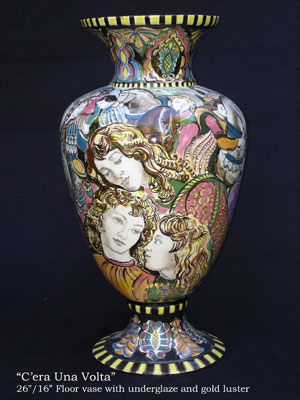 "C'era Una Volta"
26"/16", Floor Vase with Underglaze and Gold Luster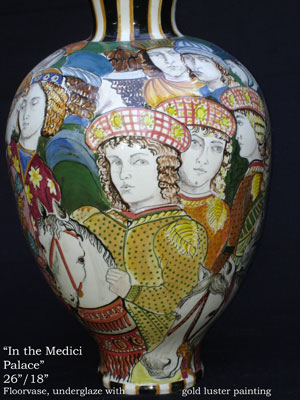 "In The Medici Palace"
26"/18", Floor Vase, Underglaze with Gold Luster Painting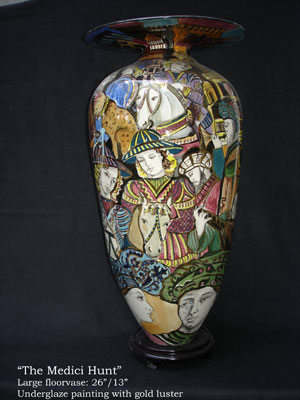 "The Medici Hunt"
Large floorvase: 26"/13"
Underglaze Painting with Gold Luster
Susan Varga was born and raised in Budapest, Hungary, where the Viennese-Hungarian Art Nouveau style was an early influence. Her work features decorative, elegant figures amidst gilded patterns. Strong colors, maroon, black and gold luster contrast with the natural white clay in the faces and hands of the figures. She builds her ceramic objects in a traditional manner, forming vases, bowls and platters on a potter's wheel. Because of their large size, the vases and bowls must be formed in sections on the wheel and later assembled in a unified piece. After the first firing, the pieces are sanded and elaborate paintings are applied to fill all spaces on the vessels.
First, Varga studied at The University of Architecture and Engineering, Budapest and became an architect. In 1964, she moved to New York and received a Masters Degree in Architecture from Columbia University. Working in the New York office of prominent architect, Marcel Breuer, she eventually found her interests and directed her energies to painting. Later, she moved to Boston where she completed a graduate degree in Art Education and Ceramics at The Massachusetts College of Art. Since 1990, her ceramics have been exhibited in prestigious galleries in Budapest, Vienna, and throughout the United States. Recently retired from a 25-year teaching career in the Newton Public School System, she now enjoys painting Cape Cod scenes in oils and pastels.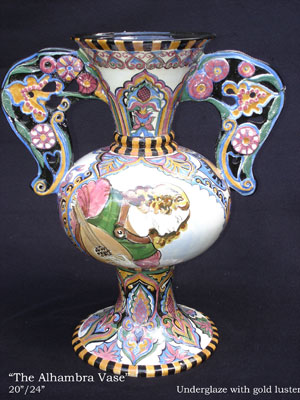 "The Alhambra Vase"
20"/24"
Underglaze with Gold Luster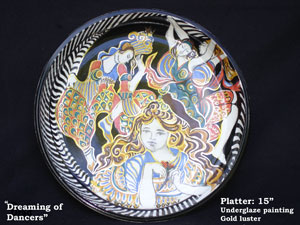 "Dreaming of Dancers"
Platter: 15"
Underglaze Painting with Gold Luster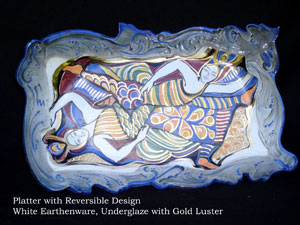 "Platter with Reversible Design"
White Earthenware, Underglaze with Gold Luster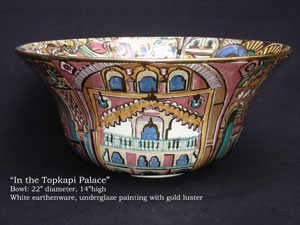 "In The Topkapi Palace"
Bowl: 22" Diameter, 14" High
White Earthenware, Underglaze with Gold Luster