Andrew Stevovich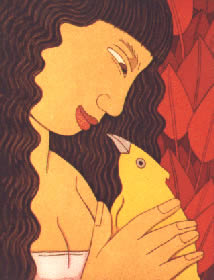 "Yellow Bird"
Four-color Aquatint
Andrew Stevovich received a MFA in Painting from The Massachusetts College of Art in 1980, a BFA in Painting from The Rhode Island School of Design in 1970 where Gordon Peers was a great influence.
Over twenty years ago, Warren Adelson, the distinguished collector and gallery owner from New York, became acquainted with Andrew. Since that time, Adelson has produced many exhibitions of Stevovichís work in New York and also in Japan. The Renaissance inspired figurative realism that Andrew created in oils and aquatints were very well received. Mr. Adelson participated in Stevovichís retrospective at the Danforth Museum of Art, Framingham, Mass. During his childhood in Washington, DC, Andrew spent a lot of his time at The National Gallery studying its great Renaissance collection. Later, Expressionism became an influence, especially Gauginís intensity, color and psychology. Andrew works with shape and the rhythm of color as did Gaugin and Giotto. His provocative paintings create a narrative that is intentionally left ambiguous, enticing the viewer to make his own interpretation. His subjects are often that of the common man and everyday life situations. Appropriately, his fourth Adelson Gallery exhibition in 2001 was titled Imitating Life.
The works of Andrew Stevovich are in the public collections of The Addison Gallery of American Art, Andover, Mass., The Boston Athenaeum, The Boston Public Library, The Danforth Museum, Framingham, Mass., The Estonian Art Museum, Tallin, Estonia, The Fuller Art Museum, Brockton, Mass., The Museum of Fine Arts, Boston, The New Britain Museum of American Art, New Britain, Conn., and The Portland Museum of Art, Portland, Maine. Special exhibitions have been held across the United States and reviewed in major art magazines and newspapers.