Suzanne M. Packer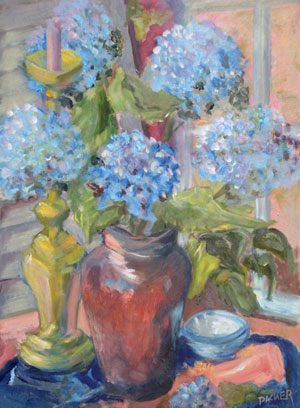 "By The Window"
Oil on canvas, 24" x 18"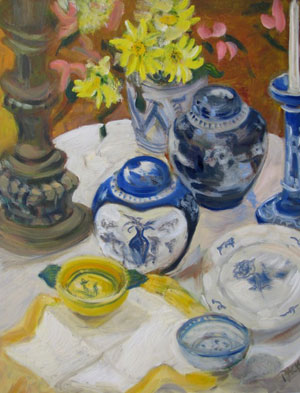 "Ginger Jars"
Oil on canvas, 24" x 20"
Suzanne exhibited her first work in the San Francisco Museum of Art. She was five years old. Her work has since been exhibited and collected from New England to California, to Greece and India. It is in private and corporate collections including the Cahoon Museum of American Art, The Cape Cod Museum of Arts and the Provincetown Art Association and Museum.
Suzanne M. Packer is the founding Director of the Cape Museum of Fine Arts and a distinguished Cape Cod painter. She attended the Rhode Island School of Design, the Art Students League of New York City and Harvard University. She has traveled and lived around the world. Her move to the Cape in 1983 has brought her contentment, professional development and peer acknowledgment.
In addition to painting, Suzanne devotes a significant amount of time to mentoring other artists and to community projects. She was a founder and co-chair of Women Creating, a multi-media exhibition celebrating the creative women of Cape Cod. She served on the staff of the Chatham Creative Arts Center as coordinator of The Festival of the Arts, a three-day nationally juried arts and crafts festival. Currently she is an invitational member of 21 IN TRURO; and serves on the Board of Trustees of The Cultural Center of Cape Cod.
Suzanne has been honored with numerous one-person exhibitions, including The Cahoon Museum of American Art in 1997, The Sparrow House Museum in 1999, Plymouth, MA and Spanning The Years: A. S. Packer & Suzanne M. Packer at the Cape Cod Museum of Art in 2007. The exhibition included paintings and illustrations by her father and mentor, the noted New York illustrator, A. S. Packer.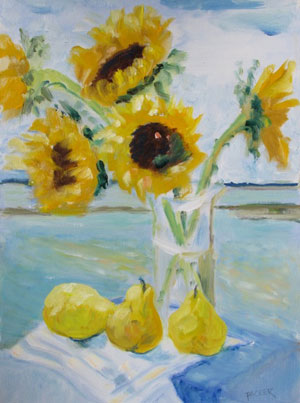 "By The River"
Oil on canvas, 16" x 12"