Ellen Milan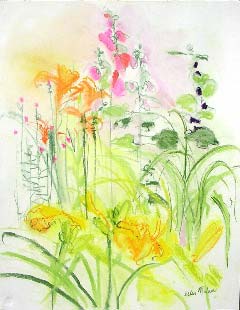 "Floral"
Pastel, 22 x 30"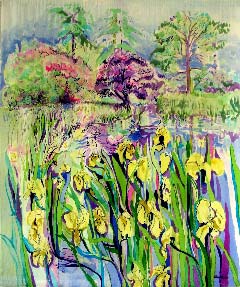 "Yellow Iris"
Hand Painted Silk Hanging, 48 x 40"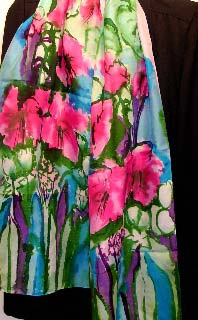 "Pink Floral"
Hand Painted Silk Scarf, 12 x 72"
Ellen Milan is a printmaker and a painter with a studio in Lincoln, Massachusetts. She received a BS Degree in Education from the University of Wisconsin, Madison and she has taken graduate courses and professional workshops. She has been an elementary school art teacher (K-6) for nineteen years for the Newton Public Schools. She created a regional art school at Moshav Neve llan, Israel for elementary, high school and adult levels in which she designed program, trained teachers and taught various visual arts media and art history. She created and administered a studio and gallery in Jerusalem, Israel. Previously, while living in Wisconsin, she taught adult classes in Madison at Wisconsin Technical College and for the Madison Art Guild.
Early in her career, she was art teacher for grades 1-8 of the Madison Public School System. In addition to exhibiting her artwork in the Greater Boston area, her work is included in the permanent collection of the Israel Museum and the Museum of Art in Haifa, Israel. She participated in the International Exhibition of Graphic Art in Frechen, Germany, the Yogoslavia International Print Competition, the VII Grand Prix International DíArt, Monaco, the Zurich Exhibition of Jerusalem Artists, The Audubon Artists Exhibitions, National Academy Galleries, New York, The National Print and Drawing Exhibitions of Oklahoma, The Boston Printmakers Exhibition, Museum of Fine Arts, Boston. Wisconsin Salons of Art have also been venues for her work. Her artwork is in the collections of the Ministry of Education and Culture, Israel, The University of Wisconsin, De Paw University and The Weight Art Center, Beloit, Wisconsin. Ms. Milanís drawings, fine prints and paintings on silk reflect her interest in gardens and in nature.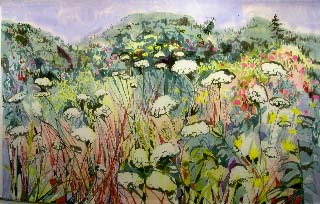 "Queen Anne's Lace"
Hand Painted Silk Hanging, 40 x 62"