Priscilla Levesque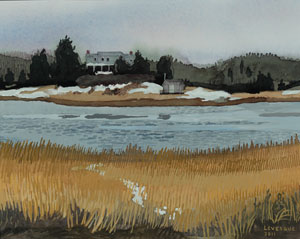 "Across the Cove"
w/c & casein, 9 1/2" x 7 1/2"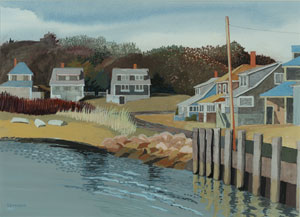 "Wild Harbor"
w/c & casein, 14" x 10"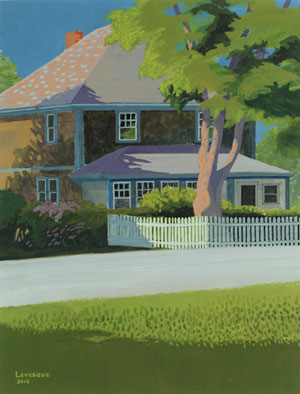 "House with White Fence"
casein, image 10" x 13"
Priscilla grew up on a farm in Ashburnham, Massachusetts. Her father was a meteorologist long before there were computers or weather satellites to aid forecasters. One of Priscilla's earliest artistic memories is of drawing and coloring on the back of her father's daily weather maps. As a child, she was often involved in other creative activities such as painting, modeling clay or papier mache, and carving wood.
Priscilla received her BFA degree at UMass Amherst in 1969 and has pursued her art career, either part time or full time, ever since.
In 1977, Priscilla was the originator and first chairperson of the Cataumet Artists Fair, a day long indoor/outdoor event for regional artists. It became a popular annual festival, which Priscilla helped to organize each year until 1990.
As a resident of Cataumet, Massachusetts for the past 37 years, Priscilla has painted many landscapes on the Upper Cape and Martha's Vineyard. After many years of working in transparent watercolor, she recently began using casein as well. She enjoys it because the opacity allows for more color changes and experimentation. In many paintings she combines both media.
In recent years, Priscilla has won several awards in juried shows, including Best in Show at the Falmouth Artists Guild 2007 Summer Juried Show. In the same location she won Best Landscape in 2008 and Jurors' Choice in 2009. In 2009 and 2010, she won Honorable Mentions at the Duxbury Art Association's Winter Juried Show.
Priscilla accepts commission work and specializes in house portraits. Also, she teaches at the Cataumet Arts Center, The Falmouth Community School, and the Featherstone Center for the Arts in Oak Bluffs. She is represented by the Cataumet Arts Center, Cape Gallery Framer in Falmouth, the South Street Gallery in Hingham, and Gallery 333 in North Falmouth, all in Massachusetts.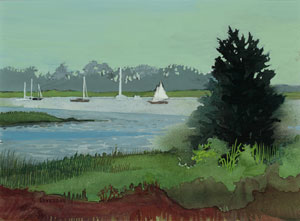 "Red Brook Harbor"
casein, 10" x 7 1/4