Alla Lazebnik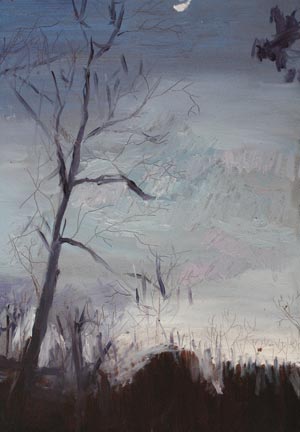 "The Moon"
May, 2008, oil on panel, 5"x 7"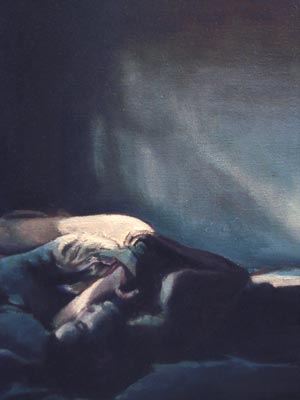 "Illumination from the Moon"
2008, oil on canvas, 9"x 12"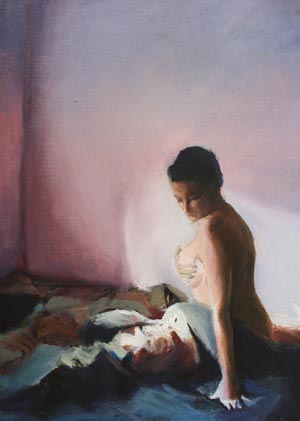 "White Light"
2008, oil on canvas, 9"x 12"
Alla B. Lazebnik was born in Nizhniy Novgorod, Russia, and in 1996 she immigrated with her parents to Boston. She received her BFA in Painting, BS in Animal Science, and minor in Art History at the University of Massachusetts in Amherst in 2007. Currently she is studying with the Boston School Painters Susan Kelley and the master painter Robert Douglas Hunter.
Alla's current work focuses on how light, dark and shadow, often referred to as chiaroscuro, affect the form of the human body. The aforementioned effects not only help to describe the form of the body but also carry psychological and emotional meaning. Using a limited palette of color and modulated tonality through opaque layering and transparent glazing, the paintings imprison delicate and intimate moments of life, allowing a viewer to eternally continue a silent dialogue, which he or she develops on their own.
Since graduating with her BFA, Alla has taken part in numerous solo and group exhibitions including: Bonnar Show at the Armenian Museum in Watertown (2009); Newton Open Studios (2008-2009); Newton Art Association Juried Show (2009); Newton Open Studios Fall Art Show, juried by DeCordova Curatorial Fellow Nina Bozicnik (2008); Printmakers' North American Print Biennial, Boston University's 808 Gallery (2008); Abstractions II at the ALL Gallery in Lowell (2008); Better Bean Coffee Company, Bridgewater (2007); and her works have been displayed in several non-profit spaces in the Greater Boston area. She also was awarded Gallery Representation at the Art One Gallery, Scottsdale, AZ (2008-2009).
Recently Ms. Lazebnik was recipient of an award at a Juried Show for the Newton Art Association. Alla has been awarded First Prize in the Spring 2010 Exhibition of The Newton Art Association.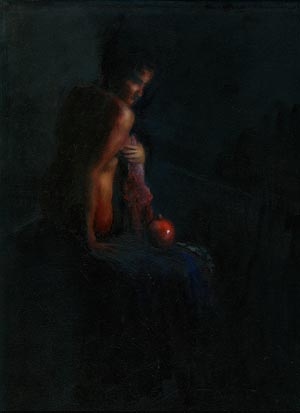 "Conversation"
2008, oil on canvas, 9" x 12"
"Away from the Shadow" (diptych)
2008, oil on canvas 12" x 24"