Susan A. Hollis
"Marsh Canal"
Oil, 6" x 8"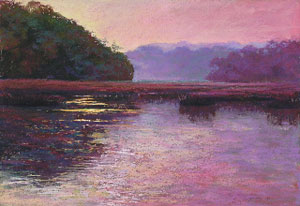 "Into The Sky"
Pastel, 18" x 24"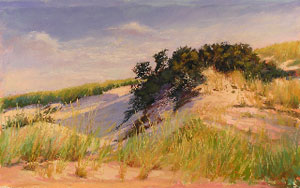 "Dune Shadow"
Pastel, 11" x 19"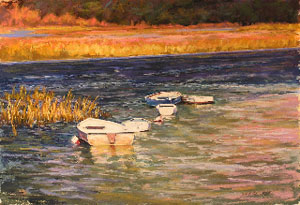 "Tender Times"
Pastel, 12" x 18"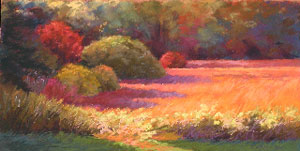 "Field Flame"
Pastel, 9" x 18 1/2"
Susan A. Hollis received a BFA Degree in Textile Design from Rhode Island School of Design, Providence, RI. She studied painting privately with several regional artists beginning in 1989 with Mary Good, continuing with Steven Aldrich, William Malony, Carol Chisholm, Jane Lincoln, Rosalie Nadeau, concluding in 1999 with Elizabeth Mowery.
She has exhibited her oils and pastels throughout New England and New York since 1997 in many significant venues including The Copley Society of Boston, The Salmagundi Club, NY, Cape Museum of Fine Arts, Dennis, MA, Pastel Society of America Arts Club, NY, The Slater Memorial Museum, Norwich, CT, Cummaquid Fine Arts, Barnstable, MA, Chatham Creative Arts Center and with the prestigious group, Twenty-One in Truro. Best in Show was awarded to Ms. Hollis in the 1999 All Cape Cod Juried Show and First Prize in 2005. She also received Honorable Mention in 1999 in the Leo Diehl Juried Exhibition in Chatham, MA and a Second Place in 2002. She was recipient of The Terry Ludwig Award in 2004 in The Renaissance and Pastel Juried 11th Annual National Exhibition, Slater Museum, CT. A solo exhibition of her work was held in 2006 at The Federal Reserve Bank, Boston, MA. Ms. Hollis is a Copley Artist, Copley Society, Boston, MA, a member of American Artists Professional League, NY, a Gallery Artist with both The South Shore Art Association and The Cape Cod Art Association, Signature Member of The Pastel Society of America, The Pastel Society of Cape Cod, The Pastel Painters of Maine, The Connecticut Pastel Society. She is a prestigious member of Twenty-One in Truro.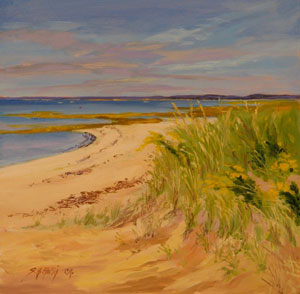 "Sea Sand & Sky"
Oil, 10" x 10"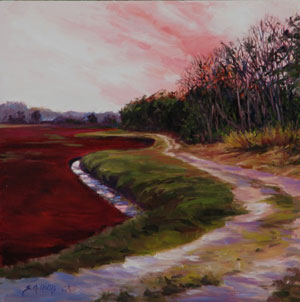 "Evening Song"
Pastel, 8" x 8"