Deirdre McCullough Grunwald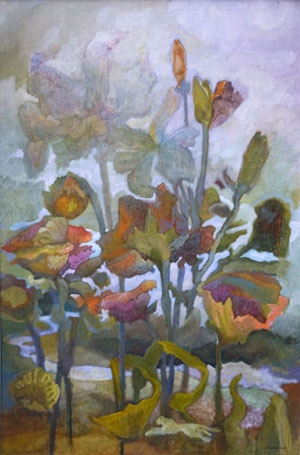 "Mist I"
Oil & Egg Tempera on masonite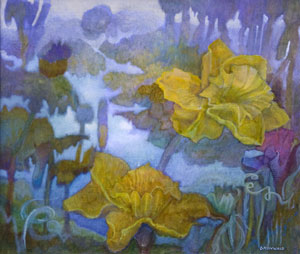 "Mist II"
Oil & Egg Tempera on masonite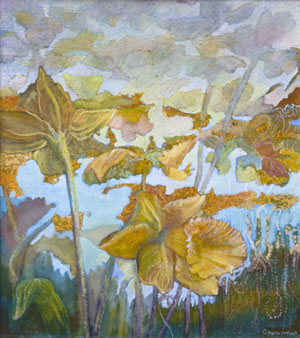 "Daffodil Wind III"
Mixed Media
Deirdre McCullough Grunwald majored in English Literature at Northeastern University, Boston, Mass., Literature, and especially poetry, inspire many of her mixed media paintings. Fantasy, imagination, words and myth play an important role in her work which is reminiscent of Aubrey Beardsley.
In 1980, McCullough-Grunwald began an intensive study of Celtic art. Gold, copper and silver leaf enhance the intricate Celtic knots which become backgrounds or accents that make up her jewel-like still-lifes. Celtic knots are sometimes enlarged to create abstract paintings. She has a continuing interest in these ancient patterns which provide the inspiration for her abstract work.
The Island of Marthaís Vineyard, off Cape Cod, Mass., is one of the artistís favorite places and her landscapes of the island speak.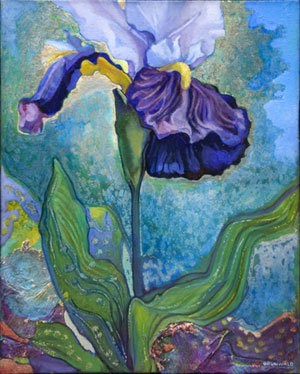 "Under Water Iris"
Mixed Media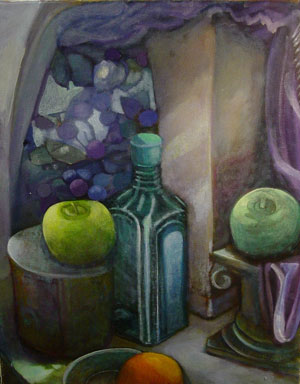 "Blue Still Life"
Oil & Egg Tempera on canvas