Alfred Glover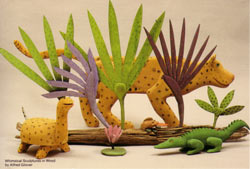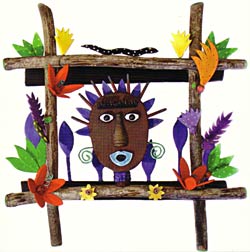 Alfred Glover is a graduate of The Vesper George School of Art, Boston, Mass. First, he became a painter and studied with Robert Douglas Hunter and Henry Hensche at The Cape School of Art in Provincetown, Mass.
Since 1973, he has been carving a menagerie of animals that are whimsically hand painted. His birds, fish, snakes and alligators are fun-loving creatures that make people feel good. Alfie's inventiveness, imagination, and cheerful disposition are of major importance to his work. His smile is infectious and he likes smiling expressions. Therefore, many of his fish and snakes have white, toothy smiles. Found objects along with driftwood, hand carved, brightly painted tree limbs and tropical foliage enhance his sculptures. Collectors from Maine to Florida enjoy his friendly creatures indoors as well as in their gardens.
In recent years, The Art Complex Museum, Duxbury, Mass., The Cahoon Museum of American Art, Cotuit, Mass., The Cape Museum of Fine Arts, Dennis, Mass., and The Society of Arts and Crafts in Boston have presented one-man shows of Glover's work.