Alice Galick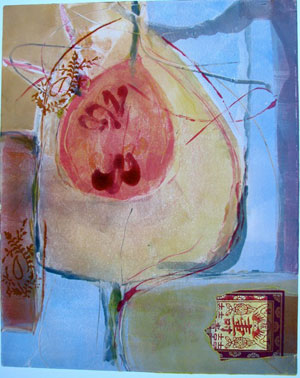 "Fruit for thought"
monoprint with collage, 16x20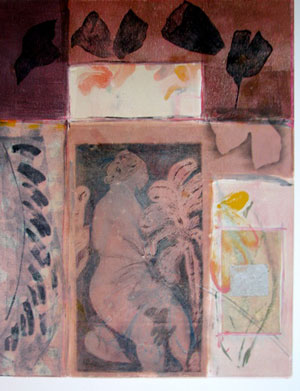 "Woodcut and etching"
monoprint, 16x20
A native of North Carolina and a long time resident in Connecticut and Massachusetts, Alice Nicholson- Galick graduated from the University of North Carolina and received an MA from Hartford Art School. Two assistantships in printmaking at Penland, and many workshops with noted artists from around the United States has added depth and knowledge to her printmaking and painting. She has studied with Florence Putterman, Jim Cambronne, Florence Hatcher, Ken Kerslake, Catherine Kernan, Thomas Wojak, Dan Welden, and Ron Pokrasso. A member of many art organizations, and a teacher of art for 30 years, she has received awards and exhibited extensively in galleries, museums and juried shows throughout New England. Her work is included in public and private collections around the US and Europe.
Artist Statement:
Drawing from nature and the figure my work reflects my interpretation of space and color. The landscape and figures are my passion and abstraction becomes my way of seeing the world. I layer my images in transparent color and use the monotype for it's unique possibilities.
Exhibitions:
Many juried and invitational shows around New England and private and public foundations since 1976.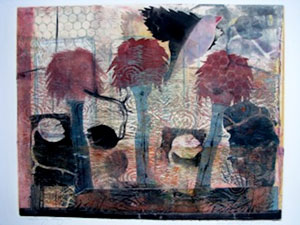 "Morning Song"
monoprint with collage