Kendra D'Angora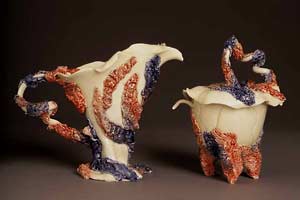 "Sugar Bowl and Creamer"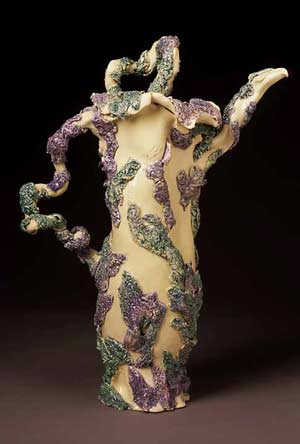 "Faerie Teapot"
Kendra D'Angora has a BFA in Ceramics from The Massachusetts College of Art, Boston, Mass., where she was Assistant to the Technician in the Ceramics Department. She earned a Lead Teacher Certificate from Aquinas College in 1999. She currently teaches art of all mediums from ages 3 to adult at the Plymouth Community Art Center located in the Cordage Park in Plymouth. Kendra has been exhibiting her ceramics and drawings since 1985 in Greater Boston. She is a 2007 first prize winner for pastels at the Cape Cod Art Association, as well as a second prize in 2004 for a colored pencil drawing. In 1985 and 1986, she was a blue ribbon recipient of the Boston Globe Scholastic Art Awards. Her specialty is clay functional ware with a textural edge, inspired by nature. "I love the unpredictability of nature, the way elements grow and intertwine ...weaving and creating beautiful art forms. I am excited by color, texture, interesting and unique objects and images." Unusual form, textures and glazes enhance all of these characteristics in Kendra's ceramics.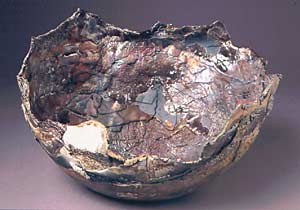 "Big Raku Bowl"
14x14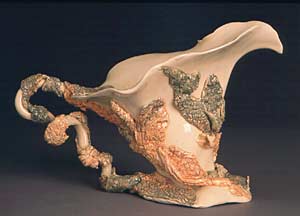 "Creamer-Gravy Boat"
Low fire white clay, 5x8x18 1/2