David Adler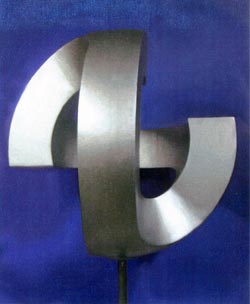 "Infinity"
Alumninum, 22 x 26 x 26"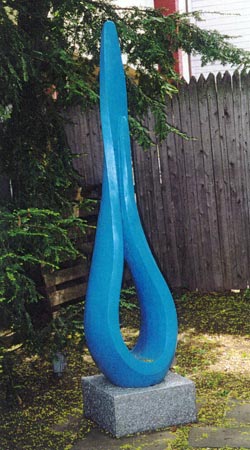 "Together"
Fiberglass, 78 x 20 x 17"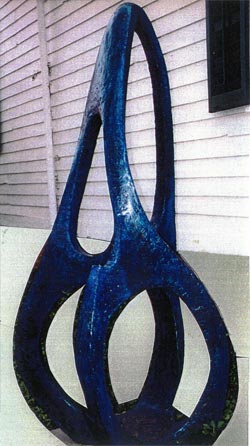 "Cathedral"
Fiberglass, 80 x 40 x 37"
David Adler of Westwood, New Jersey, was born in Hungary. During World War II he fled his native country for Israel. He was detained in Germany, France and Cypress during the two years it took to reach Israel. He is a Holocaust survivor. He enrolled in the Academy of Fine Arts, Tel Aviv, Israel in 1955 where he became a sculptor. He worked with leading Israeli sculptors, executed large-scale mouments in cast stone and he worked at a bronze foundry. He also worked with landscape architects and interior designers. His sculpture was included in several exhibitions in Israel. In 1961 he emigrated to the United States and worked as an industrial designer for Burlington Mills. He began exhibiting his sculpture in New York in 1961and continued to exhibit steadily in New York, New Jersey, Philadelphia and California. His works are included in private collections in Israel, Canada and the United States. He married Agnes Adler whom he met at the Academy of Fine Arts, Tel Aviv, Israel. They have enjoyed working and exhibiting their sculpture together for over fifty years.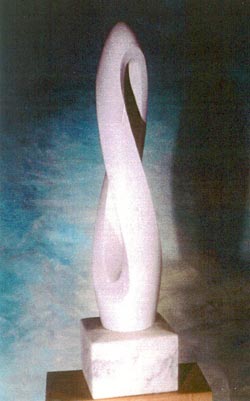 "Gordius Knot"
Fiberglass, 144 x 32 x 32"
"Silver Bird"
13 x 8 x 5'
Available in Bronze, 16 x 10 x 7"