Betty Carroll Fuller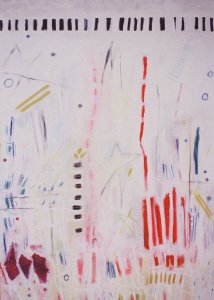 "Night of the Dancing Fools"
Oil on Canvas, 48x70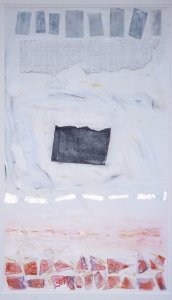 "First Snow"
Mixed Media on Paper, 14x23 1/2
Betty Carroll Fuller earned a BA in Art Education and did Post Graduate Studies in Media and Resources at The University of Maryland. She attended Bowie State College, Maryland where she took Graduate Studies in Curriculum Development and Harvard University where she took Extension Studies in Demonic Greek. In 1990, Ms. Fuller was awarded a Massachusetts Arts Lottery Grant and "Best in Show" Falmouth Artists' Guild, Falmouth, Mass. She won a Massachusetts Arts Lottery Grant Career Development Award in 1992 and continued to win awards for her abstract paintings throughout the 1990's. She has served as curator, art director, exhibition advisor and freelance art consultant for collectors and interior designers. She has recently opened a small furniture design business, Vernacular Furniture.
"My work is about my life...what lives in my heart, what touches my soul. I use a wide variety of materials and techniques to capture the color, texture and feel of little things and simple pleasures....I combine good draftsmanship with abstraction. I also seek to incorporate the irresistible rhythms and jam-session style of jazz into my work." Her large works are primarily oil on canvas. The use of found objects, gold, silver and copper leaf reflect light and create an ever-changing surface.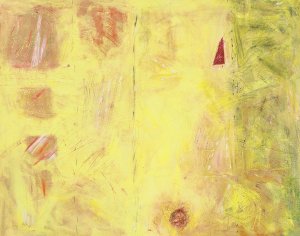 "Heart and Soul"
Oil, 34x42