Arlene Bandes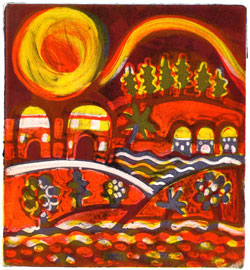 "Jerusalem Sun"
10x11 unframed, 20x21 3/4 framed, Monotype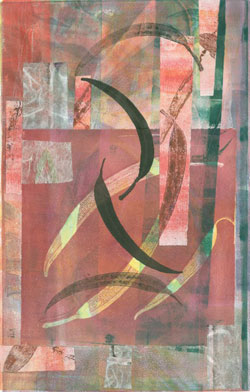 "East/West #2"
10"x16" unframed, framed 19x25 ½, Monotype Collage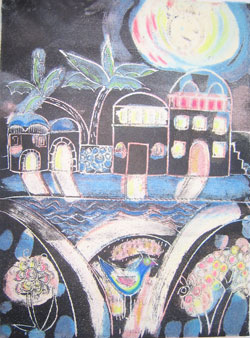 "Village of Peace/Evening"
9x12 unframed, 16 3/4x20 1/2 framed
Arlene Bandes is a printmaker who discovered the allure of monotypes twenty-five years ago. She studied printmaking with Michael Mazur at Brandeis University where she graduated Magna Cum Laude, Phi Beta Kappa. A sculpture major at Brandeis, she was awarded the Deborah Cohen Award in Sculpture. She received her Master's Degree from Harvard University where she studied at the Graduate School of Education.
For thirty seven years Arlene taught elementary art in the Newton, Massachusetts Public Schools, where she was able to impart her love and understanding of the visual world to thousands of students. Working with area colleges, she trained dozens of student teachers. Several grants enabled her to hang the work of students in sites throughout Newton and to develop an extensive collection of child digital art that could be used within the schools. She has presented workshops and demonstrations for the Massachusetts Art Education Association, the Massachusetts Music Education Association, Boston Conservatory of Music, Northeastern University, Newton Art Association. She currently teaches at the Jewish Community Center in Newton, MA.
Retired from full time teaching, Arlene has been concentrating on her own art making. Her work has been exhibited extensively in Massachusetts both in solo and group shows. A member of the Monotype Guild of New England, the Newton Art Association, the Nature Printing Society, she has exhibited in their shows. Currently she is chairperson for exhibits for the Newton Art Association and curates their shows. With her husband she is owner and artist for the art rubber stamp company, Zum Gali Gali Rubber Stamps, and is thrilled that her drawings are used around the world.
Arlene's monotypes and collages explore the concept of layers, the building up of values, relationships, meanings. She uses different viscosities of inks to create patterns and textures and her prints are the result of many trips through the press. Each print literally has many layers. Much of her work is informed by the natural world, especially leaves, flowers, shells and birds, but she is also inspired by Judaic folk art images and her family history.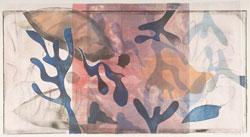 "Past, Present, Future Dance"